Sovereign Tea
August 2020 Roadmap - Pushing the Visual Envelope
---
August is finally upon us! Let us come together to share the latest happenings in the world of Sovereign Tea, 3 Halves Games, and beyond. There's quite a lot to break down so let's get to it!

July: The Month of Content
In July, we had a mission to provide updates to our game on social media as many days as possible. This has proven effective for us in a number of ways, as it has bolstered our social media presence, increased visibility of our game, led to more users joining our Discord server, and in some cases converted into early access sales for this very game. We believe that at our small indie scale it is very important to regularly communicate with our fans and potential customers, so we are committing to the continuation of the month of content. Let's highlight some of the new content we shared the past month!
The Reveal of Mate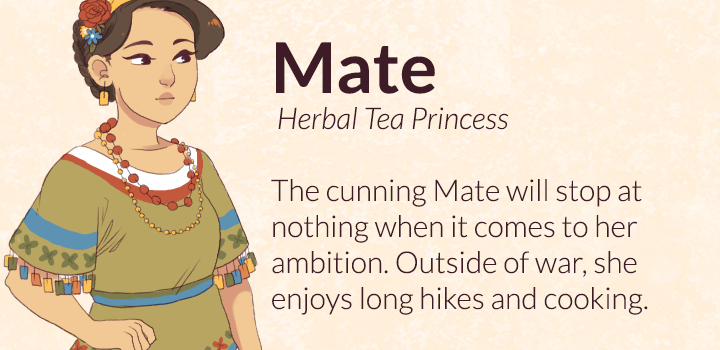 Mate was mentioned previously in the alpha build of the game, but now we are finally revealing her design and personality. She is aligned with the Coffee Empire in spite of being a Tea Princess. There are a number of reasons why we chose to go this route, so let's break it down a bit:
Having all the tea princesses start off perfectly aligned and seeing eye-to-eye with one another is boring. It is very intentional that the Tea Realms are depicted as independent states, each with their own culture and leadership. This is to contrast with the Coffee Empire, which started off as a confederation of territory ruled by the Coffee Regents prior to full incorporation. We want to paint an image of Tea as individuality and Coffee as conformity, at least to some extent. This means, yes, a Tea Princess may willingly wish to align with the Coffee Empire.
Even beyond that, we took our real world into consideration. Multiple South American nations are known for having coffee as one of their major exports. Mate, the tisane, is found in these same nations. As a result, it isn't a stretch to say that mate is a tea that has managed to thrive among a coffee culture, among coffee connoisseurs. We wanted to reflect this reality in Mate's characterization, and so we wanted her to ally with the Coffee Empire. This leads us to a related major reveal...
The World of Sovereign Tea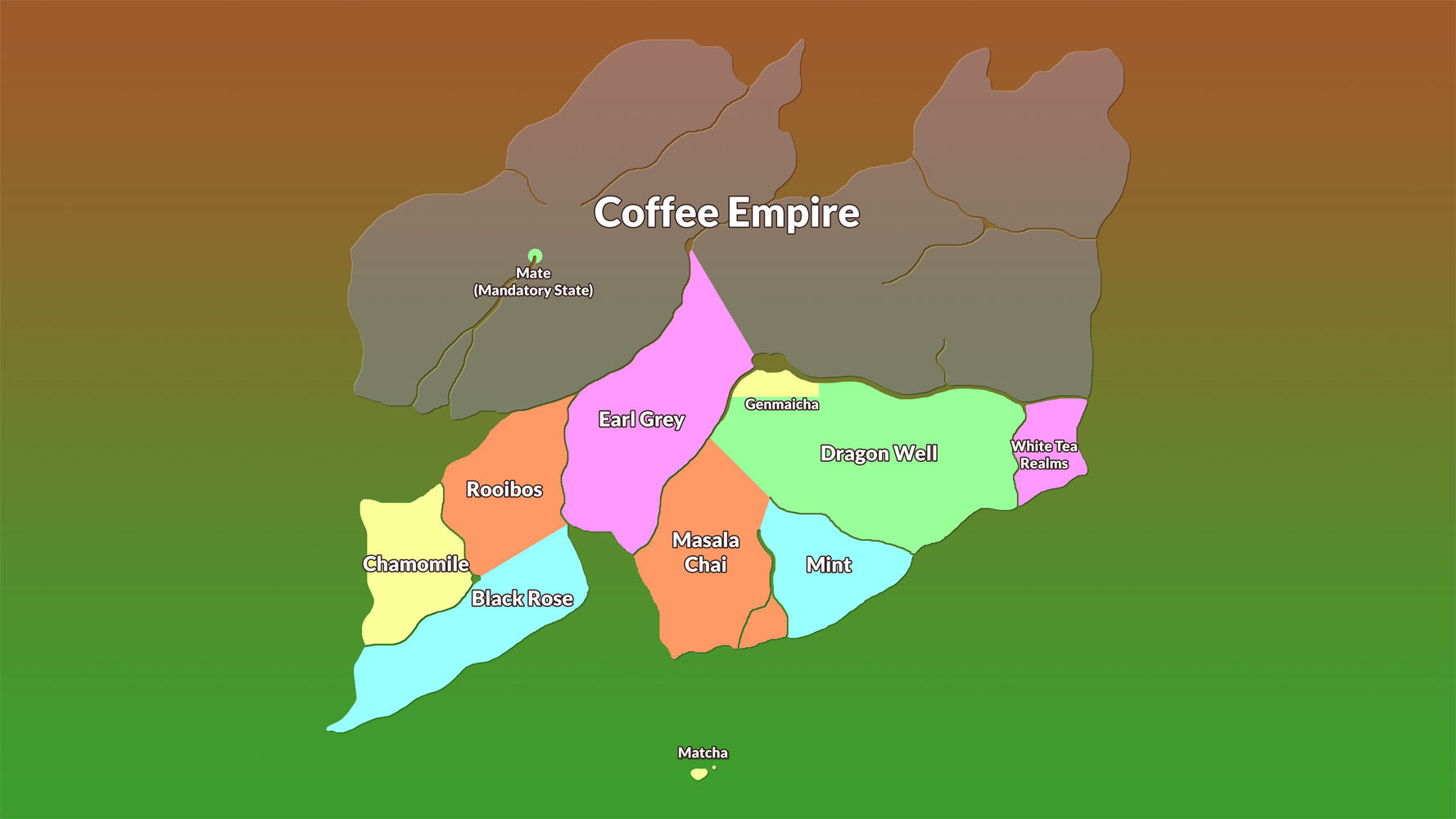 We finally revealed the world map for Sovereign Tea. Mate, as you can see, is a mandatory state deep within the Coffee Empire. Our fans were very quick to notice that there was a new tea revealed in the above: Matcha. We don't want to say anything more about this yet beyond confirming something that many speculated: Matcha and Genmaicha are indeed related. Matcha is Genmaicha's older sister. We really hope you enjoy the storyline we have crafted around these two characters, as it is something we on the development side have genuinely found pleasure in creating.
Starwatchers: The Search for Cosmic Jam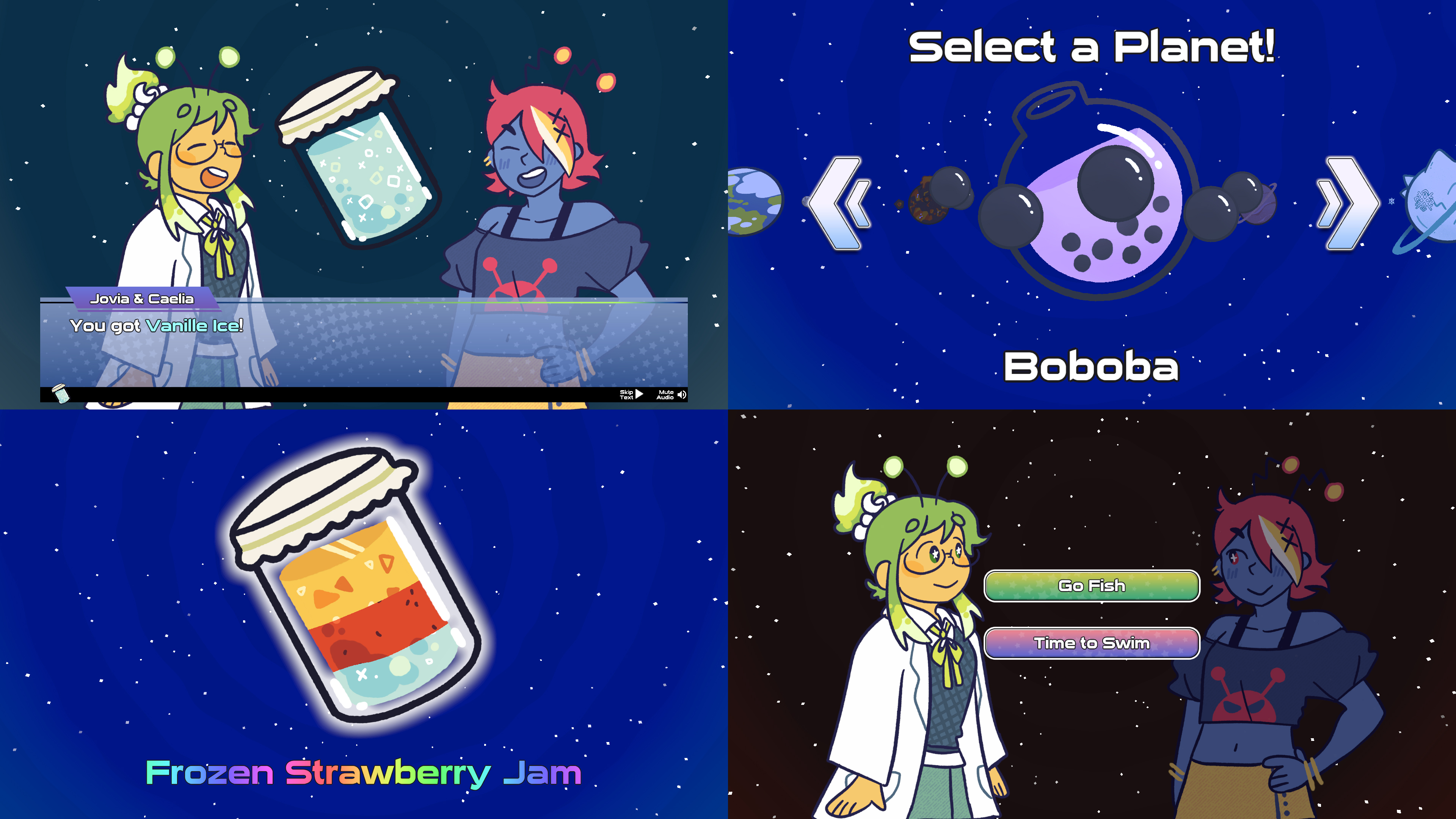 Those of you following us on social media and on itch probably already know of our latest game, Starwatchers: The Search for Cosmic Jam, a visual novel entry for Shoot For The Stars Jam. Whenever we do a game jam, it is to learn a new or improve upon a skill so that we can grow as developers. To recap our previous jam entries...
That last point is important. We previously felt we were too limited in Unity with trying to keep the UI scalable for all resolutions that it necessarily required us to make very ugly, generic UI in Sovereign Tea. We learned in our latest work how to more properly handle Unity-specific issues with text scaling, UI scaling, aspect ratio maintenance, and so on. Additionally, we really pushed our text package, Super Text Mesh, to the limit in this title. The dialogue parser and scene loader for this jam game was taken from Sovereign Tea, and in doing so we learned a whole lot more about how to put the visual pieces together. This is really important to us, as we felt the visual quality of Sovereign Tea up until this point was sub-satisfactory.
The Goal of August: Visual Polish
Normally, we would post a generic image showcasing a few high-level goals. We don't feel the need to do that this month because there is essentially one primary goal: juice up the visuals of the game. The secondary goals are much simpler: continue tweaking game balance, continue playtesting the title, and continue integrating assets as they come. We're like to give you a small test of some of this polish, polish that we've added after our recent game jam concluded: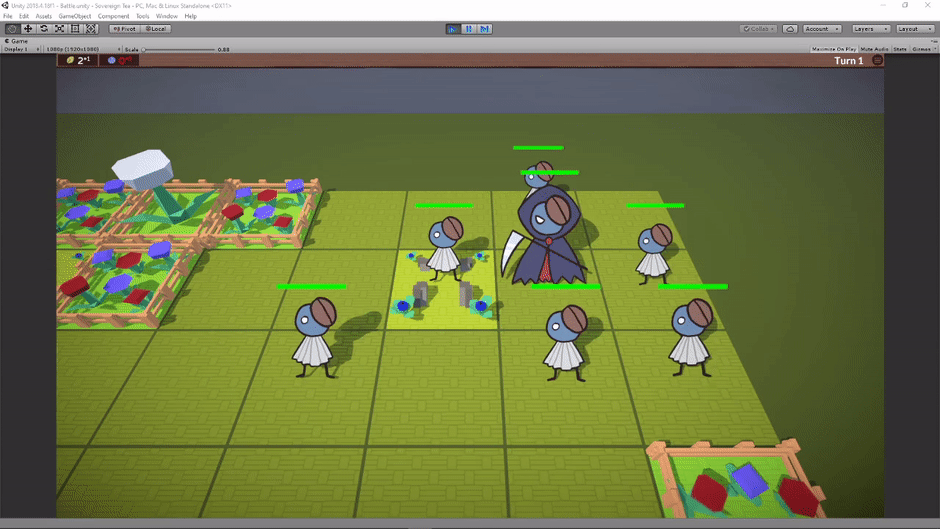 Our game jam had lots of animations that, when added, brought the scene to life. In Sovereign Tea, our units previously had no animations, essentially staying still. We could go the expensive route and get a full spritesheet for these units, or we could create cute custom tweens per character where we adjust scale, position, and rotation. In the above, you can see that we decided our basic coffee unit, Espresso, should bounce just a little bit, as if they had just downed a piping hot shot of coffee.
There are going to be a lot of visual updates like the above this month. We do recommend following us on Twitter or Facebook to stay up to date on them. Even more, we always post updates on our Discord before they go out to the public, so be sure to join our community there. It's going to be a great month, so look forward to all the updates we got planned!