Sovereign Tea
December 2019 Roadmap - Goals for Alpha
---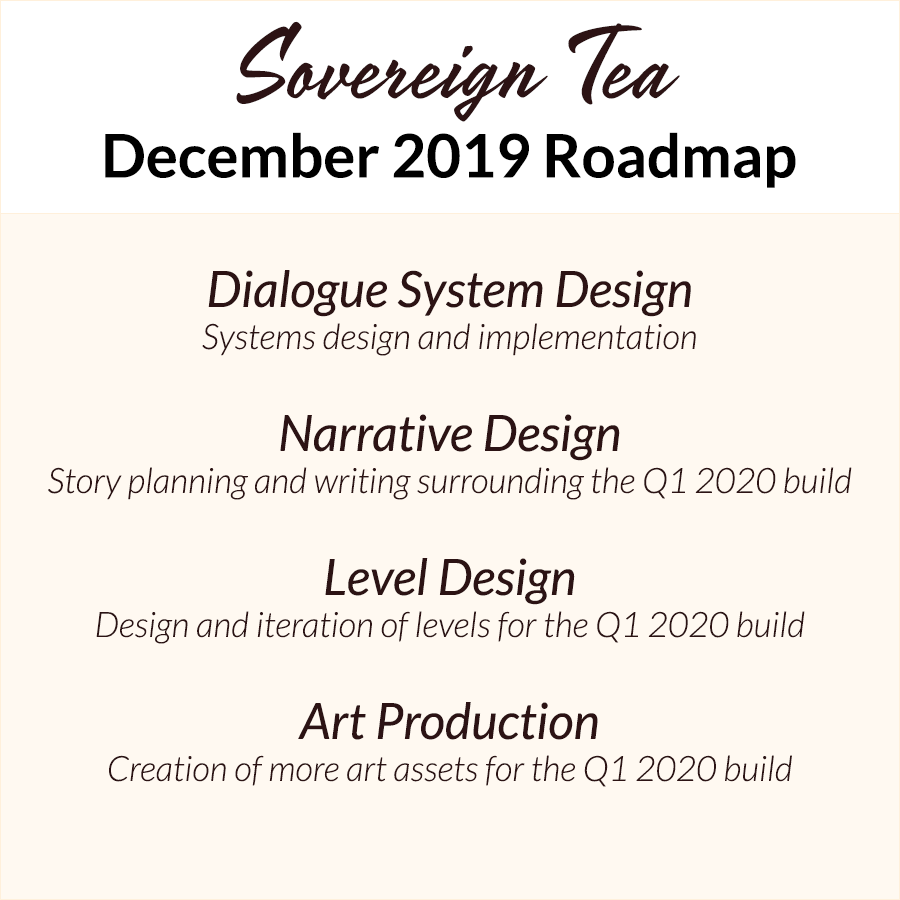 Last month, as part of our development of Sovereign Tea, we posted a November 2019 roadmap. This month, we'd like to share our updates from the last month as well as what our goals for this month are. Last month we announced four aspects we were focusing on: Camera Controller, Character Design, Brewing Gameplay Mechanics, and Enemy A.I. Design. Let's discuss each.
Camera Controller
Systems design and implementation
The camera system represents a significant improvement to the game's playability. We wanted to include this in the initial build but due to time constraints instead opted to focus our efforts on a small map that would fit entirely on screen without needing camera motion. This change enables us not only to produce larger scale maps—absolutely essential to meet the goals of our game—but it allows us to use the same system in showing animations, such as the combat zooms seen in the GIF above. Don't worry if it looks too fast in the GIF, either! We will provide various speed settings for different styles of play. This update will be available in our Q1 2020 build.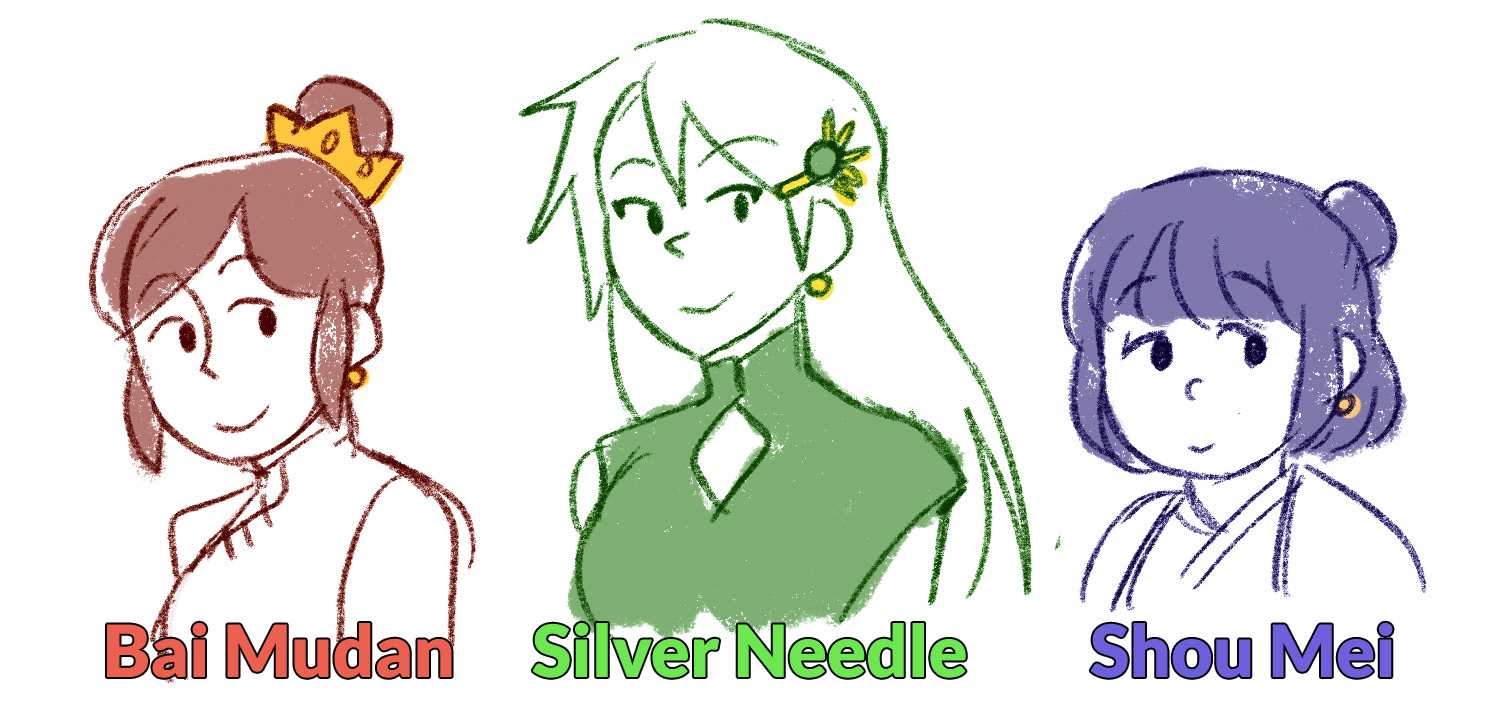 Character Design
Finalization of all Tea Princesses and Coffee Regents
We had a goal to make a final decision for all the major characters in our game and we succeeded in doing just that last month. Our decision process for which teas to pick was very intense and came down to optimizing for the following questions:
Is the tea well-known for its type?
Does the tea interact well with resources we want to put in the game?
Is the tea unique when compared to others in the game?
Can we invision fun gameplay mechanics associated with this tea?
Let's answer the above for the three white teas that will be in the game: Bai Mudan, Silver Needle, Shou Mei. White teas are easy because there are not that many already, so the three we chose we feel most confidently represent what white tea in reality is and what it's all about. Silver Needle especially is among the most popular choices of white tea, for example. All can utilize similar bonus ingredients like the already-revealed blueberries, so they have good gameplay synergy.
That said, sometimes we want to make odd choices. We previously announced Genmaicha as one of our three green teas, and while that one is not as popular a candidate among the connoisseurs of green tea, we will that its rice-based nature will make for really interesting gameplay and can lead to Genmaicha being one of the most fun to control characters. On the contrary, sometimes you have to make the obvious choice, such as our decision to include Earl Grey as one of the black teas. It's pretty hard to outdo the classics at times!
We will showcase more characters, including Coffee Regents, in 2020. Stay tuned for that!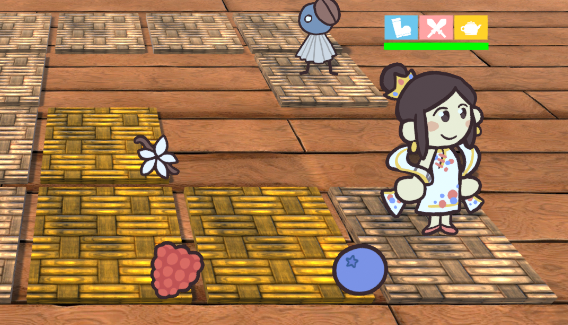 Brewing Gameplay Mechanics
Iteration on resource gathering and brewing mechanics
Not much to say here as we do not want to spoil things for our Q1 2020 build, but we are introducing new resources in it, including vanilla and raspberry as seen above. What type of teas will these lead to? You have to wait to find out, but it won't disappoint. Brewing is the most important gameplay mechanic we have in our title, and we're taking our decisions surrounding them very seriously.
Enemy A.I. Design
First pass on enabling enemies to make strategic decisions
Creating a meaningful enemy A.I. is incredibly hard. In designing one, it is easy to get too caught up in trying to capture every general detail on how an enemy should play. Something very important to take into account is that a good A.I. for players isn't necessarily an A.I. that's good at the game. Our approach to A.I. is to define behavioral weights based on goals we believe an A.I. should have for playing a game. For example, we may bias a particular map to have coffee units more likely to go for resource acquisition than for strict combat, or vice versa. This will be more apparent in the Q1 2020 build.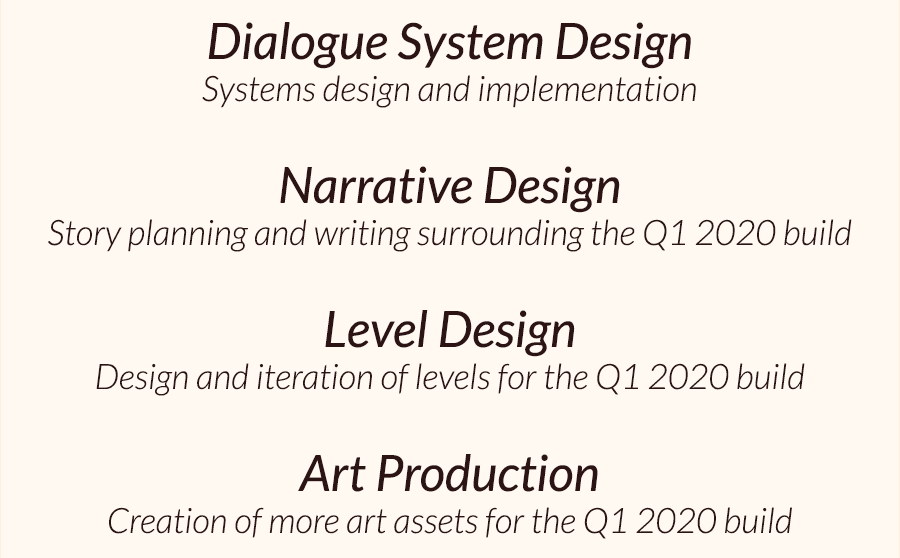 You may have noticed us talk a lot about the Q1 2020 build in the recap of our November work as well as on our roadmap for the December build. This is intentional, as that's our highest priority goal to reach. Do note that when the Q1 2020 build goes live we will adjust the price of the game to match, as described on our main Sovereign Tea landing page. With that in mind, let us discuss our December goals.
Dialogue System Design
Systems design and implementation

We at 3 Halves Games are very familiar with how to roll out dialogue systems, as you may have realized from our previous web-based title, What Do You Do When You Ask Four People Out and They All Say Yes? Our goals with the dialogue system for this game are similar: to parse dialogue character-by-character and to trigger various events through our system. We can post an entire devlog on how we plan to accomplish this, but we'd rather wait until January when the system is done to tell you more.
Narrative Design
Story planning and writing surrounding the Q1 2020 build
What good's a dialogue system is there's not actual dialogue to show? It is paramount for us this month to iron out the entire narrative of the game we wish to cover in the Q1 2020 build. Additionally, we are planning to implement said design by writing our the lines of dialogue we need for the forthcoming build. This goal and the previous one go hand-in-hand.
Level Design
Design and iteration of levels for the Q1 2020 build
Of course, what good's a narrative if there's no gameplay to go alongside it? While the developer (also the writer) works on the above two tasks, the game designer will focus on the individual levels that will ship in the Q1 2020 build. We're building off of the work we did in November surrounding brewing mechanics and ingredients, so this is merely the next logical step in the successful development of our game.
Art Production
Creation of more art assets for the Q1 2020 build
Finally, with all the hard work happening on the game, it is important to keep moving forward on the great number of art assets required to ship a beautiful product. We were overwhelmed by the positive feedback our initial screenshots have received and we're beyond eager to show you more as the time comes!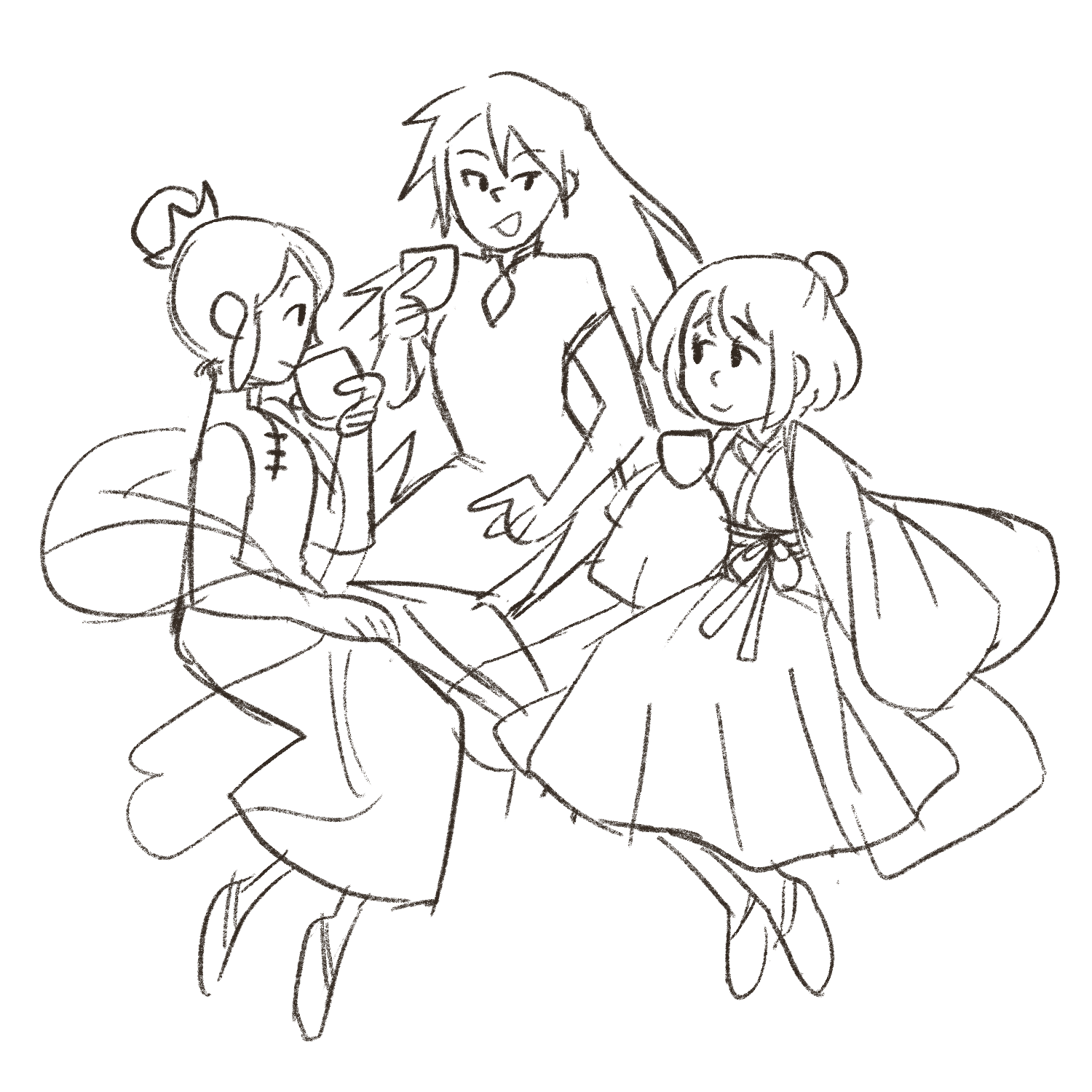 That sure was a lot to talk about! As always, you can keep up with the development of Sovereign Tea by following us on Twitter, Facebook, and Discord. Hope to see you again in the new year!