Sovereign Tea
July 2020 Roadmap - Kickstarter Announced!
---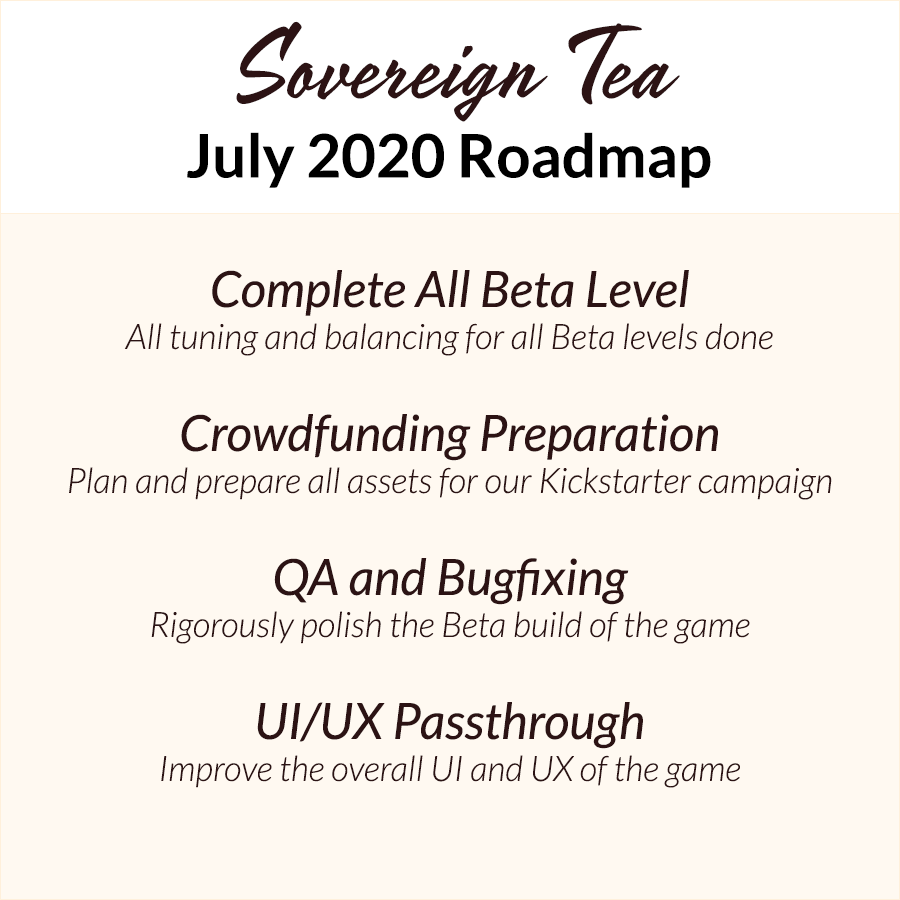 Let's get right to the point: We're approaching the release of our beta, and we want to tie this beta release with the launch of a crowdfunding campaign on Kickstarter! Many of you may have speculated this would be the case given our recent post asking for your opinion on backer rewards, but now we'd like to formally announce when and where.
Why Kickstarter?
We're chargin money for early access for the game, so why do we need a crowdfunding campaign in the first place? The answer is simple: to cover the cost of additional audio assets upfront. Our soundtrack is fantastic and we want to continue down the path we're on to improve our audio fidelity. Though we cannot yet specify an exact amount of money we're looking to fundraise, we can safely say that the amount will not exceed $10,000 USD. This money does not go to art assets or programming, as that is already covered.
Which Rewards?
From our survey, we wanted to figure out if people actually valued a physical CD with the game's OST as a reward. The reasons we wanted to know this are simple: a) producing CDs cost money, b) many people no longer have CD players of any kind, and c) the expectation seems to be for most campaigns to include this reward regardless of points a and b. Less than half of you who filled the survey out valued CDs as a reward, and only one person indicated a "strong preference" for them. Thus, we will not produce this reward.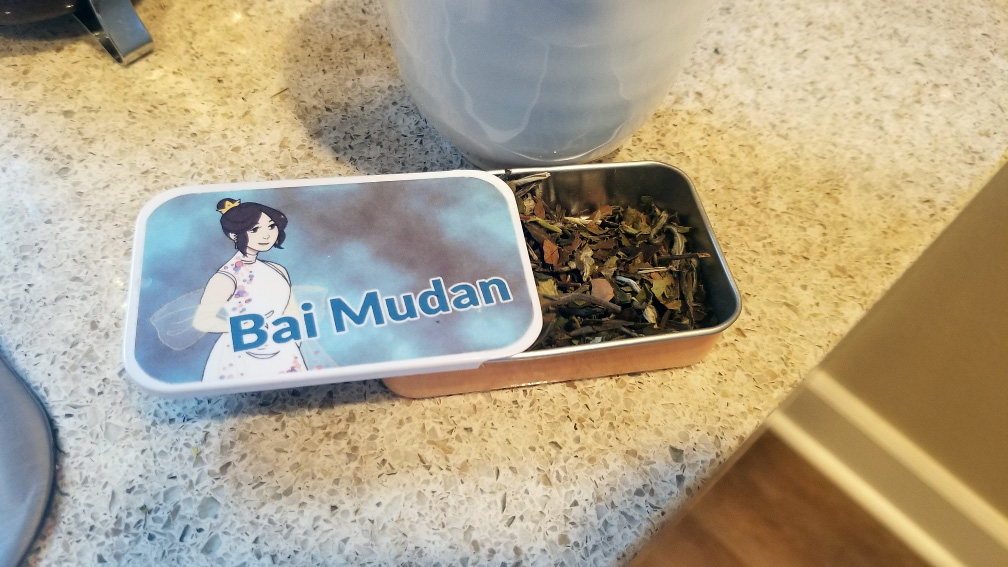 That said, of the rewards people were interested in, the top choices were:
Loose leaf tea, see above!
Enamel pins
Charms
We're going to do all of those rewards and then some. Our art director is an expert when it comes to producing these goods, as you can see by her recently reopened store, so you can guarantee that we will produce these items at a professional standard. We're excited for this campaign, which leads us to the next point...
When Does It Start?
It will launch ideally in 2 months, which means August. If you've been keeping up, you may realize that August is not in Q2 2020 as initially promised for the coming beta build. Does this mean a delay? Yes. The entire project must face a small delay. Part of this is because we want the Kickstarter campaign and the new build to launch simultaneously, as that is best to ensure the success of the campaign. The other part of the delay is a lot more personal. We'll explain it below, but if you are uncomfortable reading about COVID-19 in any capacity, please skip to the next header.
Content Warning Start: COVID-19, Death

The onset of the novel coronavirus has been difficult for all of us. Transitioning out of our daily routines has proven detrimental to our overall productivity and mental health. In the early days of the outbreak we held out hope that it would all pass, but it is clear that we are far from the end of it. We would face spurts of productivity followed by troughs of depression. This feeling is something all too common for many of us. The troughs were deepened when people very close to members on the team passed away due to complications involving COVID-19. Tears were shed, but at the end of the day those loved ones were gone, never to return. As you can imagine, in light of such serious events, we had little ability to push forward on the project. Collectively, our mental well-being is paramount. We thank you for your patience and understanding, and we urge you all to reach out to your loved ones, to listen to their plights, and to reaffirm the love you share with them.

Content Warning End

Kickstarter TL;DR;
Kickstarter campaign in 2 months
No more than $10,000 in asking price
Beta launches with campaign
Physical rewards include loose leaf tea, enamel pins, and charms
What About Updates From Last Month?
You bet we didn't forget about those! Do you like Tea Princesses? Would you like to see all the remaining princesses? Well, you got it!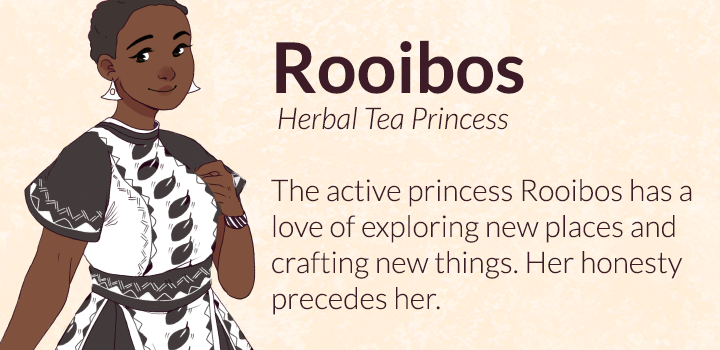 Rooibos is an Herbal Tea Princess that you will get to play as in the coming beta. Her best friend is Chamomile.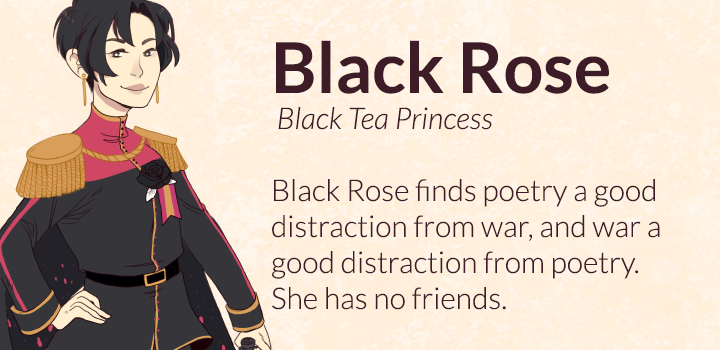 Black Rose is a scary woman.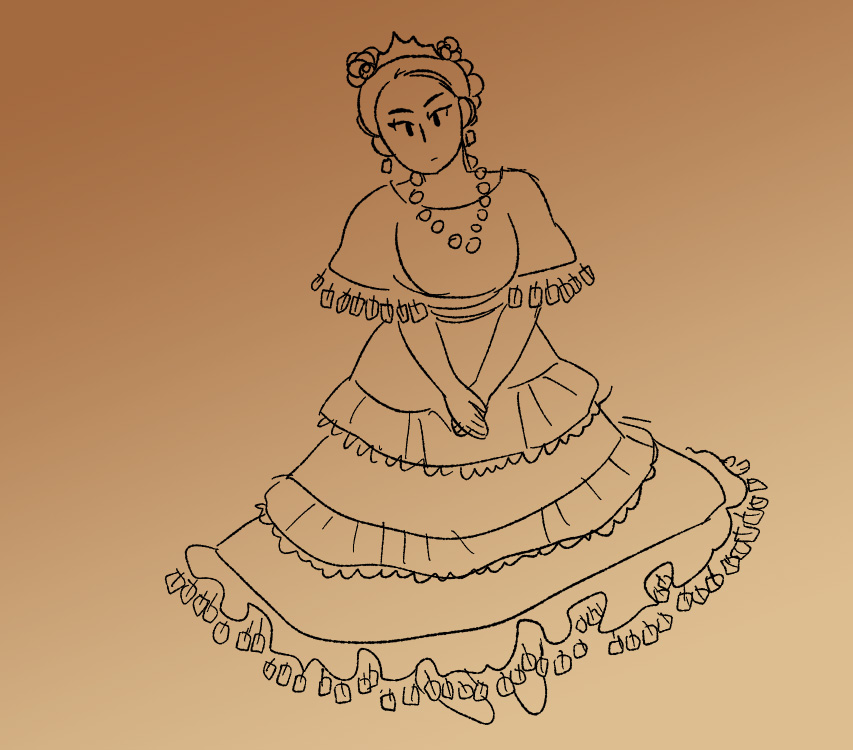 Finally at long last, we're revealing the visual design for Mate, an Herbal Tea Princess that has been mentioned before, yet never seen. We're working on her character profile next, and then that's all of them! Thanks for sticking with us through all of this.

Follow us on Twitter and Facebook. Join our Discord server. Talk to your friends about the coming Kickstarter campaign! We need your help to ensure it's a success. Thanks for reading!