Sovereign Tea
June 2021 Roadmap - The final push towards release
---
Summer is almost here, and with the passing of months comes yet another devlog for Sovereign Tea. The game's release window of July 2021 (next month!) hasn't changed and we are on track for release. Let's talk about what's done and what's left to do!
Wishlist on Steam!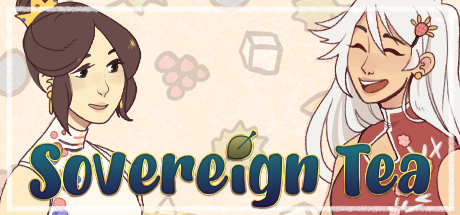 This is probably a weird thing to put in a devlog on itch, but itch allows it, so there is that! Sovereign Tea is now available to wishlist on Steam. Wishlisting is one of the most important actions you can take to ensure our game does well against the unstoppable and eternal Algorithm. We can't wait to launch! Speaking of which, let's chat about how the game's development has been going.

Our Progress So Far
Unit designs: 100%
Gameplay: 100%
Level designs: 82% -> 95%
Character art: 95% -> 100%
World unit art: 80% -> 95%
Music: 80% -> 92%
Scriptwriting: 80% -> 95%
UI: 75%
Apart from UI, all other work has rapidly progressed this past month. UI didn't advance because art resources were focused on the many, many units in the game that needed visual designs and animations. We're very happy about this progress and want to share with you more information about individual aspects of the above.
Level Designs
Of the 25 levels in the game, all levels except Level 21 are playable. Excluding the final balance pass, all levels are locked in what's considered a complete state save for Levels 14, 21, and 25. Level 25, the final level, is on track to be completed by June 7. Levels 14 and 21 are slated for completion by June 13. Once complete, we will enter our final balance pass for every single level in the game.
World Unit Art
Of all the many, many units in the game, 3 Coffee units have finalized art but are in need of animations, 3 additional Coffee units have been sketched but not yet progressed into final art, and 3 Tea units are in need of concept art. Completion of all art, including animations, for these remaining units is expected by June 13.
Music
Of the 20 intended tracks for the OST, 4 are currently incomplete. 1 is in a nearly-complete state, 1 is composed, and 2 have yet to be started. We expect all music to be complete by the time we put out another devlog. The current length of the OST, which does not loop tracks, is 27 minutes 37 seconds.

Scriptwriting
Of the surprising amount of writing in this game, 15 endgame script files remain to be written. They are expected to be completed by June 6.
UI
UI polish will take the remainder of dev to complete and is expected to be complete by July 4. Its completion will be accompanied by a lot of fireworks and BBQ, though those events may be unrelated to this game as a whole.
The Third Development Podcast
Wow, it's our third development podcast! In this one we actually show some pretty significant pieces of content for the game. We show the entirety of the reworked scene post-Level 08, as well as dive into longform discussions about Level 09's unique level design. Those of you who are very astute may notice that our gameplay footage includes a new music track created by our composer and funded by your kind support!

In addition to the above, we have another special update regarding our vlogs...

We're going to host a Q+A for our next video devlog! We will record this in two weeks on the weekend of June 18-20. You can ask us anything you'd like regarding the development of Sovereign Tea! Feel free to ask us either in the comments here, on our social media like Twitter and Facebook, or in our Discord server. Don't be shy--we want to hear from you!
Narrative Development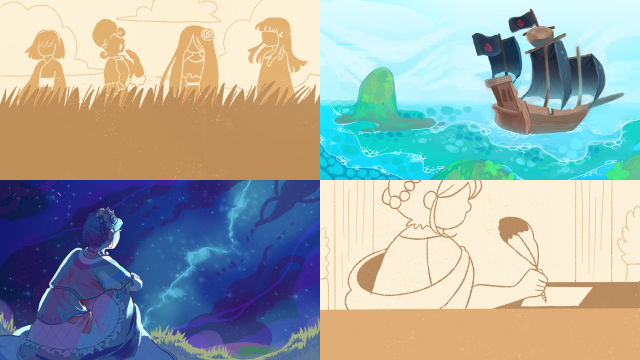 Whether it's a fully colored scenario you directly experience as you progress through the game, or a hand-written letter full of worldbuilding and characterization, we want our story to stand out. Our highly detailed CGs, drawn and painted by our character artist @AhLaToad, are added to specific scenes to enhance their impact. Each individual letter scene in the game, much like the one in the existing beta, comes complete with its own, unique track from the OST. Beyond that, the majority of tracks that exist in the game exist to amplify the narrative.
For our writer, it has been an emotional and personal journey. We hope you enjoy learning more about this world of ours.
New Units in June

No devlog is complete without introducing even more units to the fray! Today, we're going to introduce a few Coffee units.
Resistive Bulwark is a pudgy unit brewed with Blueberry and Chocolate. It is the only unit in the game with the status effect Rugged. It will fully negate any damage dealt to it if that damage is greater than 2. As a result, it can only be taken down by multiple smaller hits. Thanks to this near-invincibility, it likes to adorn itself with a cape.
Pensive Footsoldier is a nihilistic brew created with Raspberry and Vanilla. When it gets hit by any attack, it applies Regen 2 to itself, ensuring that it has a means of recovery. We like to imagine this unit as thinking very hard about its life choices whenever it gets smacked around on the battlefield. Sometimes, thinking is powerful!
Votive Energizer is a fairy-like unit brewed with Blueberry and Vanilla. It has an incredible movement range of 5 and a truly baffling healing stat. When it heals an ally, it heals them for a whopping 50 HP. In essence, it fully heals its allies. However, this comes at a cost, as the unit dies right after it finishes healing.

With all the updates above, we want to be clear on one thing: this game is on track for a timely release! As we inch closer and closer to release, your support is appreciated now more than ever. Let's keep the conversation going and spread the love of tea and coffee. If nothing else, please wishlist us on Steam. If you want to go the extra mile, follow us on Twitter and Facebook, and join our Discord! This is by far our most ambitious game yet, but we're confident that it's going to be an unforgettable one. Until next time!