Sovereign Tea
June 2020 Roadmap - Masala Chai
---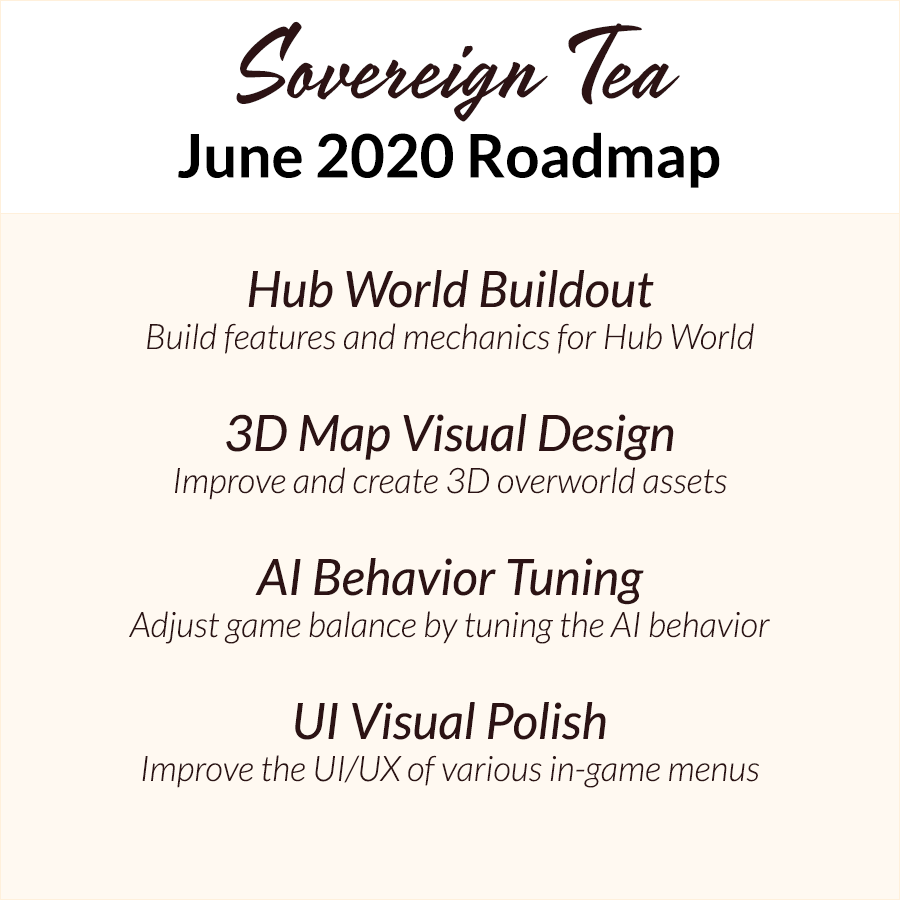 What a month it's been for the development of Sovereign Tea! We have so much to share with you. Let's get right to it.
New Tea Princess: Masala Chai, and Level Pacing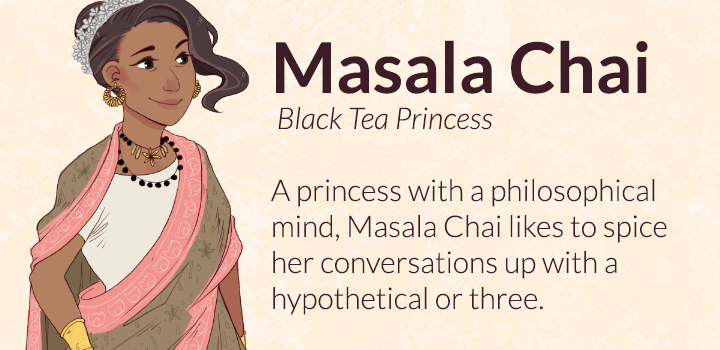 Masala Chai is a Black Tea Princess, the second of three revealed. While she will make an appearance in the coming beta build of the game, she will not be a playable character until the final release. This is because the Black Tea Princesses are intended to be late-game characters. Regarding the overall level pacing, here's what you can expect:
Initial Release: 1 prototype level
Alpha Release: 3 levels, all White Tea Princesses
Beta Release: 8 levels, including Green Tea and Herbal Tea Princesses
Full Release: 25 levels
While our current jump from 3 to 8 is significant, going from 8 to 25 is understandably more impressive. We are fully confident with this plan because as the game continues to be built, the number of new features becomes less and less. Late development is about balancing, polishing, and testing, with far less emphasis on feature implementation. This current jump, from 3 to 8, includes many new pieces of functionality, such as the previously discussed Status Effect system, which simply were not present in the past.
Regarding the narrative of the game, we are confident that our decision to not allow the Black Tea Princesses to be playable in the next build is the right one. The story beats have been crafted around this idea, and exist to reinforce gameplay as best as they can.
AI Brewing
In the previous release, while you were always capable of using resource tiles to brew units, the enemy AI conveniently never did so. Starting in the fourth level of the coming Beta, the level immediately after the third level of the prior Alpha, the enemy will begin to brew its own minions to counter yours. This is something we've always planned for from the inception of the idea for this game, and it is an extremely cool feeling to see it come to life. We cannot wait for you to see it for yourself!
New Victory Conditions
The alpha had two victory conditions:
Rout the enemy
Defeat the enemy boss
The next build adds a few more:
Survive for 10 turns
Reach a specific tile on the map
Those new win conditions do hint at some combat scenarios that will come up, don't they? We're not saying anything more beyond that for now, but hopefully you enjoyed this little tease!

The June Plan
Below we will detail the top-level goals we have for the month of June. The overall goal is to get the next release of the game out in July.
Hub World Buildout
Build features and mechanics for Hub World
We mentioned before this idea of a hub world. It is a map you return to between levels where you can rest, interact with princesses, and more. Those of you who played the previous release may remember the concluding moments, where the White Tea Princesses decide to build Fort Steep within the territory of the Coffee Empire. Our Hub World is Fort Steep. Here, you will be able to do the following:
Engage in dialogue between Tea Princesses. Some of these are required before specific levels, but most are optional. These give more characterization and also allows interactions between princesses that otherwise would never speak to one another. For example, there's a very telling dialogue we have where Dragon Well (Green Tea Princess) and Shou Mei (White Tea Princess) collide with one another.
Experiment with tea brews. In this section of the hub world map, you will open up a new menu to try making new units based on the ingredients you have acquired. What combination does Sugar and Blueberry have? What about Blueberry, Raspberry, and Vanilla? What happens if I try to make a Vanilla and Rice tea unit? This is one of the primary tools we give the player in discovering new content in the game, and it directly leads to our next point...
Select levels and decide your tea minions to bring into combat. In the alpha, all the loadouts were set by level. In the next build, you decide which units to bring. The level select screen will tell you upfront which resources are available, otherwise you could bring in units you literally cannot make, but the idea is that you determine your own fate on how to approach a combat scenario. Even more, you can replay previous levels. Beyond that, you can select the tea princesses you wish to bring into those previous levels. Want to replay the first level with Chamomile instead of Bai Mudan? You can!
Needless to say, this is one of the most exciting non-combat features coming to the next build.
3D Map Visual Design
Improve and create 3D overworld assets
The new levels take place in new locations. One takes place entering a canyon. One takes place on a boat. We need visual assets to support these locations, and it's something we will be focusing on for the month of June.
AI Behavior Tuning
Adjust game balance by tuning the AI behavior
Is the AI too hard? Is it too easy? We want to adjust the enemy's behaviors to make the game as fun as can be. There isn't too much more to say on this.
UI Visual Polish
Improve the UI/UX of various in-game menus
As you can imagine from the above, there is a lot we have ahead of us to improve game clarity and communication of concepts. We want to stay atop of things and ensure that the menus look and feel great.

Are you excited about what's to come? We sure are. If you're hyped about the coming release, we encourage you to connect with us on social media! Please follow us on Twitter, Facebook, and Discord to let us know your thoughts about the game. Thanks for reading!